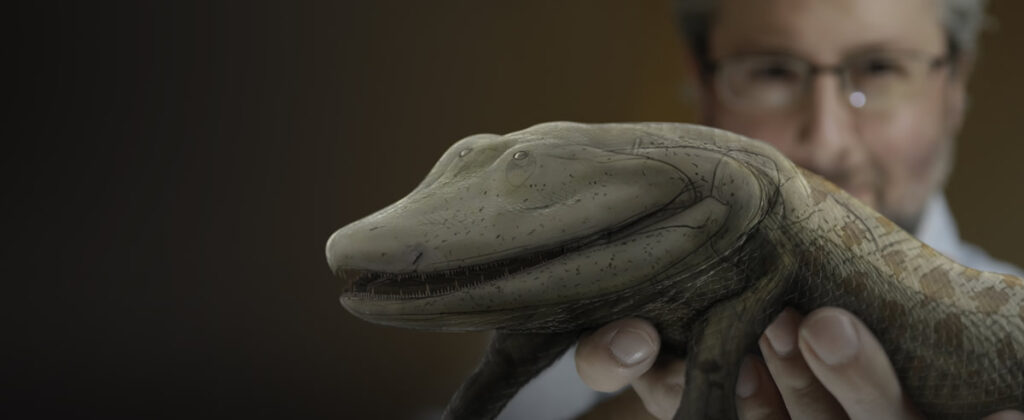 While kayaking down a creek this past weekend, I became fascinated by my friend's fascination with this fish I have never heard of before, a gar. There were many in the water which my friend made apparent by yelling "Gar!" every time she saw one. It made me think about a book I read at the beginning of the summer, Your Inner Fish. A book about a man's greatest passion and his creative insight. Fascinated by fish, the author, Neil Shubin, has spent his career hunting for ancient fish fossils that connect the evolutionary history of land-living animals.
Who is Neil Shubin?
Neil Shubin is a writer, paleontologist, evolutionist, and director of anatomy at the University of Chicago. With a wide range of specialties, Shubin has uncovered pieces of evolutionary history. He is known for discovering Tiktaalik, a prehistoric fish. Shubin has led expeditions in Pennsylvania and unmarked Canadian territory.
How are we related to Fish?
Dr. Shubin's big discovery was of the intermediate fish, Tiktaalik, was a missing key in the evolution of fish to land creatures. This fish had fins, but the anatomy showed that it was capable of more. It had bones and muscles that allowed it to move on land. Once on land, these fish evolved into amphibians and reptile-like animals. From reptiles to mammals, the anatomy changed again. In the book, Shubin covers a section of the evolution of skin. Our skin is much different than that of a reptile. They have dry skin and lay out in the sun to stay warm. The similarity between us and scaly friends is our waterproof skin. However, mammals adapted glands and hair follicles to stay warm and cool down as needed. The functions of our bodies are seen developing throughout history in our very earliest ancestors. Features such as hair and walking upright would not have been possible otherwise.
Highlights of book
Dr. Shubin knows how to tell a story. His writing is factual without being textbook bland. One of my favorite sections from the book was "Making Hands" located in chapter three which dove into the mechanics of how hands develop. He starts off by asking questions to get the reader thinking about the topic. A fellow colleague is introduced in this chapter who conducts research on chicken embryos. This research is important in that it finds the gene that is essentially the start button to the process of bones and tissues in a chicken which has anatomy equivalent to our hands. The most humbling part, that gene is found in every animal from chickens to rats to humans. As humans, we see ourselves as special because we have consciousness. We hardly ever consider ourselves animals with the advances in civilization. Humans have figured a way to always have food on the table, cure most common illnesses, and adapted to every corner of the world with help of technology. There is something higher that connects all living things. Dr. Shubin's goal is to discover and teach that message.
Dr. Shubin compares the similarities between shark gills and human embryo's pharyngeal gill slits. That basic blueprint can be taken down to the simplest of animals, the worm. The first gill arch gives rise to jaws. Bones that support the upper and lower jaw in sharks are the same bones that allow us to hear and swallow which are formed from the second gill arches. As for the last two gill arches, muscles that we use to swallow and talk are supportive muscles of gills in sharks. It is intriguing how such small resemblances connect all life.
Final Thoughts
Even though the book is titled, Your Inner Fish, there are many other animals that are compared and discussed throughout the book. Within each chapter, a new body region is covered. The book was easy to follow and engaging for someone who has a basic understanding of science. This is a great book if you are interested in evolution and science. Neil Shubin is an inspiring man and his passion for discovery is infectious. I find that I learn best from others who are passionate about what they teach. I hope others will appreciate this about the book and learn something too.
Written by Emily Duran
Emily Duran is a cohort 6 SI Bridges to the Baccalaureate scholar. She joined the program when she was an undergraduate at John A Logan Community College. In 2020, she transferred to Southern Illinois University Carbondale where she is currently majoring in Plant Biology. She enjoys hiking, reading and spending time with family.